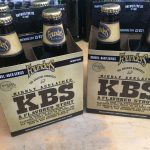 Penn Manor Beverage is here to provide what you expect, and to surprise you with something you may have never tried before. With over 100 craft beers in stock along with the tried-and-true domestic beers and a wide variety of imports, you're sure to find something special. If you don't find what you are looking for, let us know – we love to learn about new beers and will special order it for you.
Sunday Hours Noon till 5:00 pm
Monday through Saturday 11:00 am till 7:00 pm
Open 7 days a week, 361 days a year, count on us to have your beer in cases, half-kegs, quarter-kegs and sixtels — AND NOW MANY PRODUCTS MAY BE PURCHASED in smaller configurations, including singles (limited selection; not all products are available as singles).
With the largest keg cooler in Lancaster County, you will not have a problem getting what you want. And there is never an extra charge for cold cases. In addition to hundreds of varieties of beer, you can find other malt beverages, such as coolers, hard ciders and lemonades, and malt-based "bubbly" beverages. We also have the ice, tubs, taps and cups that you need to go with your beverage. And don't forget your ping pong balls at the checkout.
Remember to bring your ID when you come in; you still need to be 21 or over to purchase alcoholic beverages and you can't buy it if you don't show it.